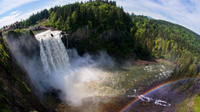 Snoqualmie Falls and Seattle City Tour
Half day Tours
Price $69.00
With two activities in one 4-hour tour, see the top sights of the Seattle area, both natural and manmade. First visit Snoqualmie Falls, a waterfall in the foothills of the Cascade Mountains. Then experience Seattle on a city tour that introduces you to the attractions and history that make Seattle one of the most livable cities in America. Listen to fun facts and engaging stories about Seattle from a guide, and learn how the city got its name and what the real story is about how much it rains. The itinerary ensures adequate time spent at each location, allowing individual feedback and suggestions from the guide.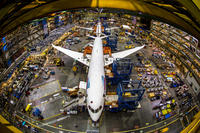 Boeing Factory Tour from Seattle
Half day Tours
Price $89.00
If you're amazed by flying and airplanes, this is an essential experience! Tour the factory where they build and test the famous Boeing aircraft, the world's number one aerospace company. During this 4-hour small-group tour, spend 1.5-hours inside the impressive Boeing factory on a tour that showcases the magnificent 747, 767, 777 aircraft used worldwide and the Dreamliner which is currently in production, all housed here in the world's largest building!