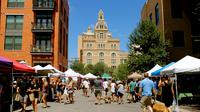 The Real San Antonio Small Group Guided Tour
Take a stroll through the history of San Antonio with this fun, interactive, and totally unique tour. You start with a guided tour of the magnificent Mission San Jose, then head to the historic King William District for a stroll through the most elegant neighborhood in the city, and finally a drive by Pearl to get a glimpse of 'new' San Antonio. Along the way, you'll drive by some major attractions and learn about the history, people, food, and culture of San Antonio so you get a complete overview of the city. 'If you want an intimate, offbeat, and fun tour, this is the one for you.'Like we always say, come as strangers, leave as friends!Special Offer - Book and save 15% compared to the local supplier's prices! - Book Now!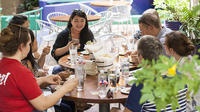 Downtown Delicacy - San Antonio Walking Food Tour
If you're looking for great food and a good time, look no further. The city of San Antonio is famously known for the Riverwalk and the Alamo but is quickly becoming a foodie destination. It doesn't matter if you live here or are just visiting for a few days, this tour is an experience you don't want to miss. Whether it is traditional Tex-Mex or dishes unique to San Antonio, this tour will excite your taste buds and show you a side of The Alamo City never seen before. Take a journey on this interactive and engaging tour, spanning over 3 hours with 5 stops.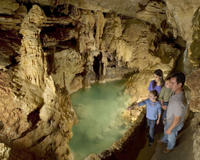 Natural Bridge Caverns Underground Walking Tour
Take a guided walking tour of Natural Bridge Caverns, the largest commercial caverns in Texas. An informative and fun guide leads small groups of people 180 feet (55 m) below the ground into the atmospheric caves for a 75-minute tour packed with history, exploration, and an intriguing explanation for the science behind the caverns' curious rock formations. Once above ground again, enjoy the other attractions, such as ziplines and adventure courses, that are fun for the whole family.