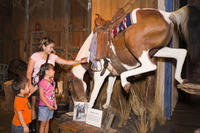 The Buckhorn Saloon & Museum and Texas Ranger Museum
Delve into a truly unusual museum experience at the Buckhorn Saloon & Museum and Texas Ranger Museum. Located only two blocks from the Alamo, the Buckhorn exhibits an astounding collection of taxidermy animals, western-flavored Americana, impressive antler racks, and much more. In the same building, the Texas Ranger Museum features historic artifacts from the famed Texas law enforcement division and Ranger Town, a replica of San Antonio in the 1900s. You can even bring a purchased drink from the saloon into the museum.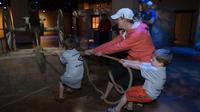 Battle for Texas Interactive Adventure
Live the story of the Alamo. Battle for Texas The Experience is an interactive adventure that transports visitors back to the 1836 epic battle over the Alamo. Visitors immerse themselves in Texas history as they learn the stories behind the 250 never-before-seen collection of artifacts. Meet the heroes Davy Crockett, William Travis, and James Bowie. Design your own flag and claim your land. Load cannons into firing position as you prepare to enter the gauntlet. Honor the brave defenders as their names are roll called one by one. Celebrate the great state and weave yourself into the fabric of Texas.Special Offer - Price displayed includes a 17% discount off the local admission price! - Book Now!